WE HAVE PLENTY OF THE STOCK OF MOST OF THE FAST MOVING PRODUCTS AND THE ORDER CAN BE SHIP ON THE SAME DAY IF IT IS RECEIVED BEFORE 4:00 pm. ORDERS PLACED AFTER 4:00 pm will ship next day .If the Product NOT IN STOCK we will gladly process a back order.
GLOBALLY SUPPLY ABILITY: We have the Facility to Handle all the Orders from INDIA and OVERSEAS. The tentative delivery time * is mentioned here: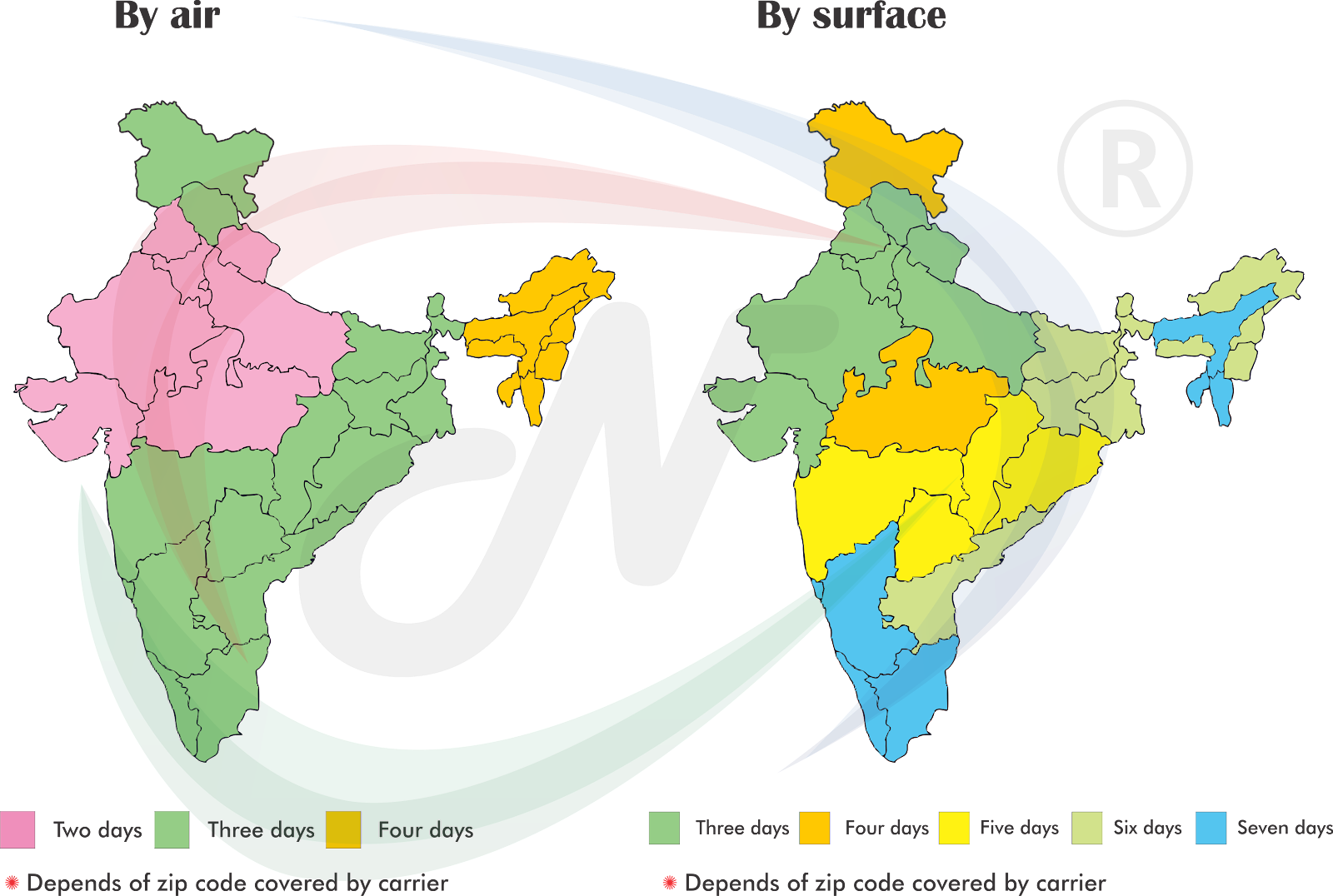 ORDER CONFIRMATION: We will send the Order Confirmation after receipt of the Order through a.m. ways. Once we check the availability or lead time, shall send the order confirmation to process the payment.
Note: Pls process the payment after our order confirmation and Acceptance.
Please review the order confirmation, if you would like to dispute or change anything in the order confirmation please do so prior to the ship date. Not responding our email communication will be taken as an acceptance of the prices and terms mentioned on the order confirmation.
Lead Time
The lead time for orders is subjected to fluctuate, based on the availability of stock and advance payment percentage.
Delivery Terms
Invoice, transportation document, and instruction manual shall be provided with all the orders from NESPL.
Limitations
The ordered products shall be delivered to the customer by the supplier as per the conditions and the offers indicated on the NESPL website and confirmed on the registered e-mail. If not mentioned, the order shall be delivered within 60 days of receiving the order confirmation email.
Delay or Failure in Delivery: The supplier shall not be held liable for the delay or failure of delivering the products to the customer in case of conditions or situations out of his/her control. These conditions or situations may include, but not limited to, challenges in procuring raw materials, issues related to planning or production of orders, total or partial strikes, unavailability of electrical power, occurrence of natural disasters, special control measures imposed by public/govt. authorities, transportation problems, circumstances of force majeure, disorders, terror attacks and all other causes of force majeure, etc. The occurrence of such events may affect the delivery and the customer is not entitled to claim any kind of reimbursement or compensation for the possible damage of the product.
Product Return Policy: The product installation must be done by the technician who has the knowledge of installing the product. Failure to do so may damage the product and may not be accounted for the return of the damaged goods.
The products shall travel on the buyer's risk once sold, even if it is free delivery. NESPL (the supplier) must not be held responsible for any delays or errors caused by the courier company. For any incidents, the buyer shall inspect the received products and claim any possible damages directly from the courier company, even if the products are shipped FOB.