What is the Importance of Beer Tower & its Purpose?
The Beer Tower is not actually a new concept, it is almost a decade back device that was commonly known as a portable keg tap or a picnic tap, as it was generally used during outdoor events, like picnics or garden parties.
Portable Keg taps were significantly larger than now existing modern beer towers. Their operating method involved manually pumping air into the beer container, which creates pressure within the container that would force the beer out of the tap. The lager beer barrels that stood upright, stressing gravity to force the beer out the tap from the device.
Here are a few insights about trending Beer Towers:
In March 2011, Boston United States, the licensing officials forbade bars from serving beer in beer towers. The officials required licensed alcohol-serving businesses to request permission to use these Beer tower dispensers.
The beer tower is popular in bars and clubs throughout South East Asia & Australia commonly in Thailand, Malaysia, Singapore, and the Philippines. The beer towers were first used in Queensland. Since 2012, they appeared in other Australian bars.
In 2017, India started using these Self-service tabletop beer dispensers.
Today the beer tower also is commonly known as a beer tap, Giraffe or a tabletop beer dispenser is a beer dispensing device and also is an important part of Beer Equipment Spare Parts in beer bars, pubs and restaurants. The idea behind beer devices is that a group of patrons can serve themselves the amount of beer they want without having to order repeatedly often & individually.
The device comes in a variety of sizes, most often double to triple the size of standard beer pitchers that hold around 48–60 U.S. fluid ounces 1.4–1.8 L of beer.
Early versions of beer towers came in the standard shape of a four feet tall cylinder attached to a beer tap at the bottom. But the new models come with several dispensing valves for simultaneous dispense.
Draft Beer Towers Materials: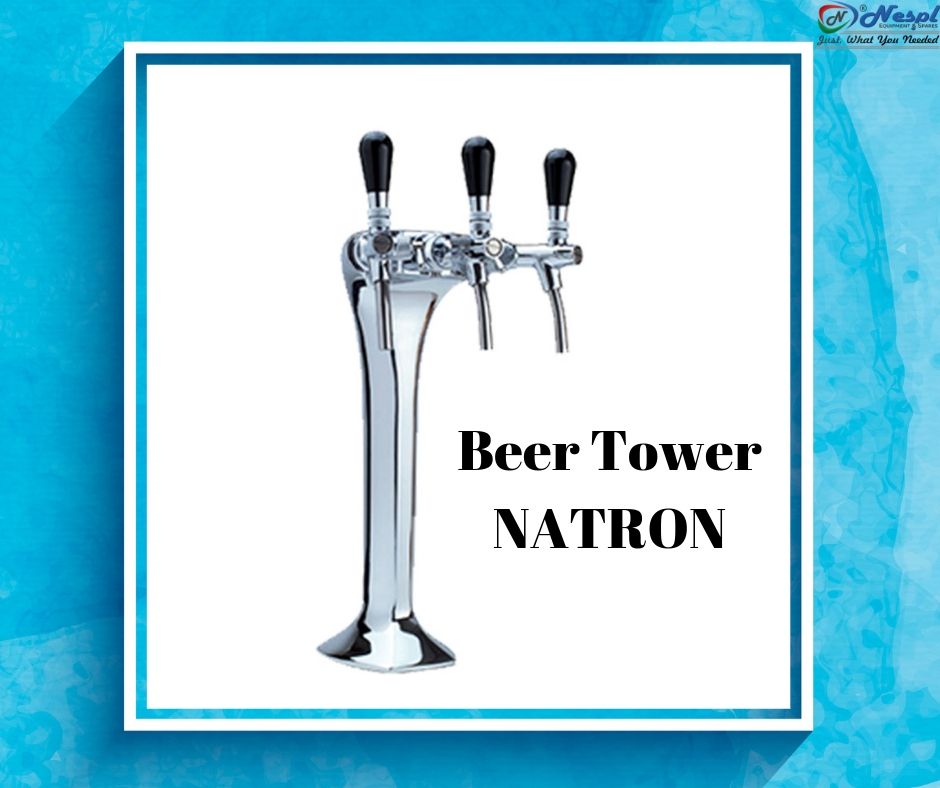 Chrome Plated Brass Beer Towers. It is the most common  Chrome plated brass beer towers. These require maintenance for cleaning and polishing.
Polished Stainless Steel Beer Towers. It is polished to appear like a mirror quality in chrome. These are highly durable and resistant to corrosion and tarnish. They are easy to maintain with no maintenance polishing required.
Polished Brass Beer Towers made of solid brass are polished to a mirror-like finish. The beauty of this brass finish is maintained on a regular basis to keep from tarnishing.
PVD Brass Beer Towers. It is a new technology which takes a polished stainless steel body and electronically gives a brass-like finish. The benefit is a long lasting and scratch resistant finish.
ABS Plastic Beer Towers. These are economic in price with both durability and superior insulation qualities, which are available in either gloss finished black or chrome plated and resists tarnishing and pitting.
Air Cooled Beer Towers. It is coming with an internal foam insulation wrapper it helps keep the air space inside the tower chill. These have a quick-acting handle for smooth consistent and easy operation. These Towers can be mounted on any countertop surface and include mounting hardware.
All Glycol Cooled Beer Towers. It comes with tubing for recirculation coolant known as glycol to maintain the cool temperature of the beer lines. All have a quick-acting handle for smooth consistent performance and easy operation.

Are you looking for branded Bar Equipment Parts? Rush to the leading supplier – NATRON in New Delhi, India.
Contact @ +91 11 – 42665166 / 40817268 or info@natronequipments.com