Soda Machine Coils | Natron Equipment & Spares Pvt Ltd- Nespl
Soda machine coils we are provide many types of Stainless Steel Coils Soda & Water, Mango And Syrup Coils manufacturers, suppliers and exporters in India,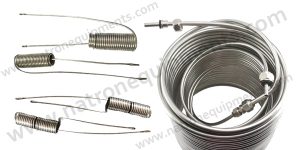 We would like to introduce our company Natron Equipment and Spares Pvt. Ltd. that has been in business of Draught Beer Equipment ,Towers, Accessories, Soft Drink Equipment, Towers, Accessories, Coffee Machine Part, Water Purification Systems and Parts (Domestic) and Refrigeration & AC. as well as other solution related to a.m. segments. In October 2010 NESPL entered for the first time to the spare parts sector, also setting up specialized, Bigger Facility in NEW DELHI (INDIA) .So now we have been an established and popular company with an excellent track record for the customer satisfaction which is better in same Industry.