When it comes to fountain applications, the Cold Drink-MC2 system emerges as the top choice. It boasts an exceptional ability to preserve the carbonation of beverages while simultaneously elevating their taste. Furthermore, this remarkable system guarantees optimal performance by effectively preventing clogging, corrosion, and abrasive wear. With the Cold Drink-MC2 system, individuals can indulge in their fountain drinks to the fullest, relishing each sip as it delivers a refreshing and delightful experience.
Everpure's Cold Drink-MC2 system offers numerous benefits that enhance the drinking experience. It effectively reduces the taste and odor of chloramine, resulting in a more enjoyable beverage. The system utilizes Micro-Pure® II filtration media, which prevents bacterial growth and extends its lifespan. The exclusive precoat filtration system efficiently eliminates chlorine odors and tastes, as well as particles as small as 1/2 micron. It has earned the prestigious NSF/ANSI Standard 53 certification, ensuring its ability to mechanically reduce cysts like Cryptosporidium and Giardia.
This comprehensive solution not only enhances the taste and quality of fountain drinks but also provides peace of mind in terms of health and safety. The Cold Drink-MC2 system is designed to deliver consistent performance and reliability, meeting the rigorous demands of the food and beverage industry.
Some Features of  Everpure Coldrink-MC2 System
Bacteriostatic: Inhibits bacteria growth for a healthier and safer water filtration experience.
Chlorine taste & odor reduction: Removes chlorine taste and unpleasant odors, improving the overall flavor of the water.
Cyst reduction: Filters out cysts like Cryptosporidium and Giardia, ensuring cleaner and safer drinking water.
Particulate reduction: Effectively removes tiny particles as small as 1/2 micron, providing cleaner and clearer water.
Cost-effective filtration: The Cold Drink-MC2 system offers efficient filtration that saves you money without compromising water quality.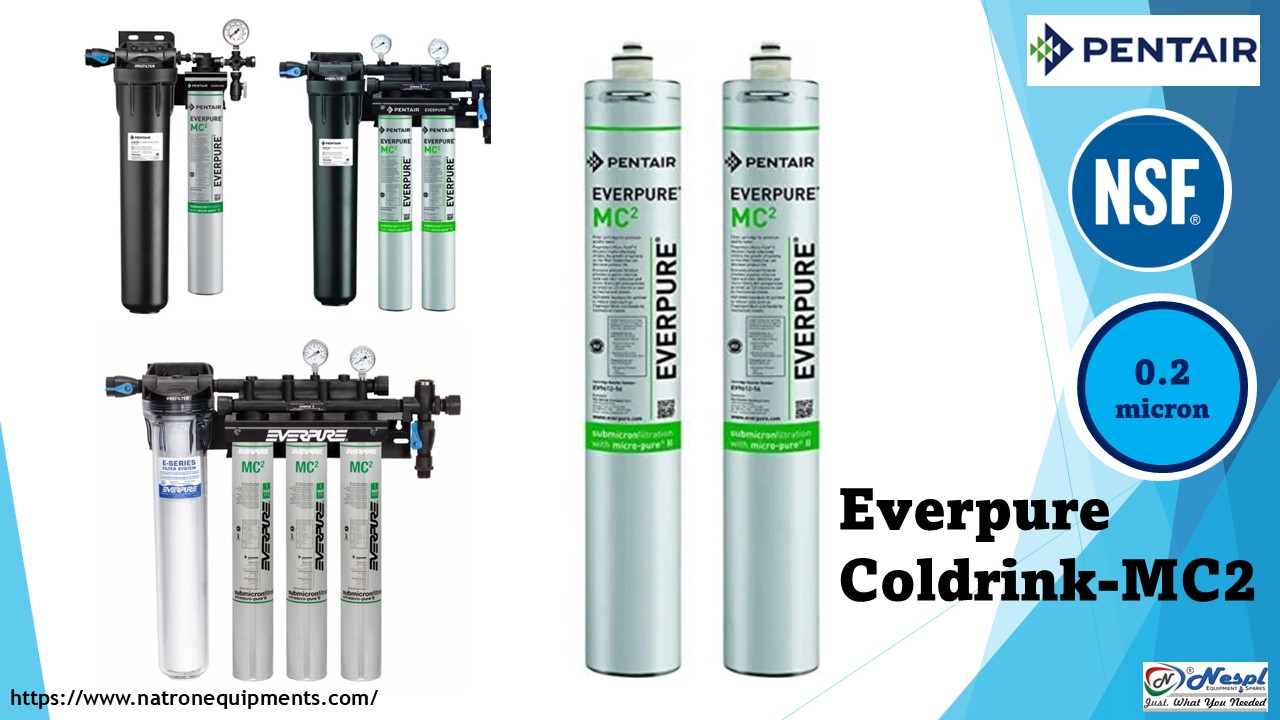 Now, let's talk about the outstanding MC2 filter cartridges by Everpure, Pentair. These cartridges are highly sought-after for their exceptional performance in fountain beverage systems and drinking water systems. They are specifically designed to effectively reduce a wide range of contaminants. The versatility of these filters is evident as they are compatible with Everpure Coldrink and High Flow CSR Systems. Whether you require filtration for coffee, ice, fountain, combi oven, or ice machine water, the Everpure MC2 Series Filter Cartridge is the ideal solution.
By incorporating the MC2 filter cartridge into your Everpure Coldrink and High Flow CSR systems, you can ensure clean and pure water for all your fountain beverage, drinking water, and combination applications. The comprehensive contamination reduction capabilities of the MC2 filter cartridge provide you with refreshing and high-quality water with every sip.
Conclusion
Cold Drink-MC2 system by Everpure stands as the ultimate choice for soft drink or fountain applications. Its exceptional ability to preserve carbonation, enhance taste, and prevent clogging, corrosion, and wear ensures a refreshing and delightful drinking experience. With features like chloramine reduction, bacteria prevention, and efficient particle removal, this system guarantees cleaner and safer water for all your fountain beverage needs.
NESPL, the dependable supplier, offers access to the Cold Drink-MC2 system and a wide range of top-notch Everpure products. With a strong commitment to delivering superior filtration solutions, NESPL ensures that you can experience the remarkable effectiveness of Everpure and enjoy the benefits of clean, pure water for your fountain beverages, drinking water, and more. You can place your trust in NESPL as the reliable source for all your water filtration requirements. Choose the Cold Drink-MC2 system and Everpure products for an unparalleled drinking experience.