Taprite CO2 Regulators | Nespl
This 2-way CO2 regulator by Nespl will allow you to control the gas flow/pressure to each of up to 2 kegs at the same time.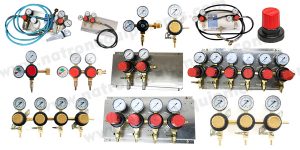 Primary regulators are used when you are attempting to dispense two or more kegs off of the same CO2 tank. A primary regulator will allow you to regulate the pressure of each keg individually. This particular primary regulator comes pre-installed on a 9-gauge galvanized metal wall mount base. Attached to the wall mount are 4 integrated 1/2″ Male NPT "Y" connections for attaching your beverage lines. Taking advantage of the mount helps to keep your dispensing area clear of clutter and your different beer lines organized. Doing so makes your keg and regulator setup look far more professional and cuts down on wasting time fumbling around with beer/gas lines.
posted by : Natron Equipment & Spares Pvt. Ltd.